QUICK LINKS
About This Tour
Where We Go
Tour Highlights
Tour Cost
Brief Tour Description
Key Dates
Minimum Number of Tour Members
How To Book This Tour
ABOUT THIS TOUR
Mention the Alps and most people think of Switzerland. The country is the epicenter of the Alps. My "Totally Switzerland" tour is geared towards those riders looking for a short tour with a lot of riding. Switzerland has more than 40 passes, some spectacular roads that lead to valleys and dams higher than many passes, great road surfaces and a plethora of things to see and do. You can't ride it all in 6 days, which is why we ride other parts of Switzerland on other tours. 
I've been traveling and riding in Switzerland for more than 30 years. The result is that I have explored many of its nooks and crannies and all of them are wonderful to ride. On this tour we ride roads and passes that many tours never go over. Even some Swiss riders haven't gone over them. This tour makes for the Perfect 6-Day Escape.
| | |
| --- | --- |
| DATES 2023: | July 1 – 6 |
| DATES 2024: | June 29 – July 4 |
| TOUR LINK OPTIONS: | Alps Select before |
| START/FINISH: | Thun Switzerland |
| RECOMMENDED AIRPORT: | Zurich |
| DURATION: | 6 Riding Days |
| DISTANCE: | 200 kms – 300 kms per day (120 miles – 180 miles) – Asphalt roads |
| DIFFICULTY: | 4 to 4.5 out 5 |
| COUNTRIES VISITED: | Switzerland |
| LAYOVER DAYS: | 1 – Pontresina (can ride or rest) |
| ACCOMODATIONS: | 2 to 4 star hotels – family run Alpine style |
| MINIMUM # OF RIDERS: | 5 |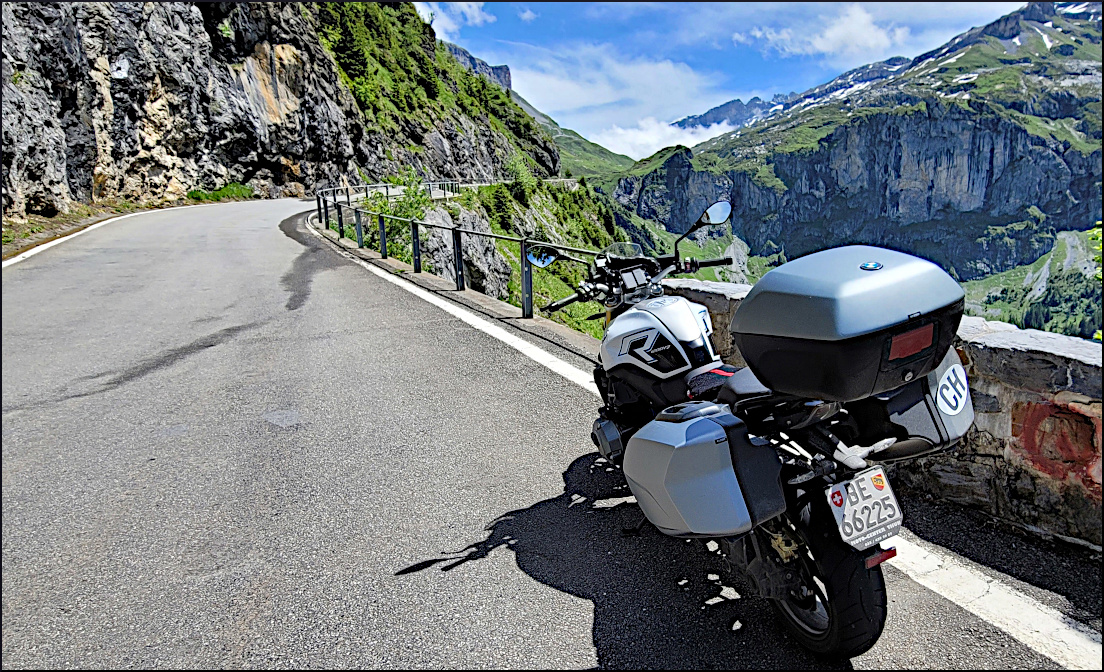 WHERE WE GO
TOTALLY SWITZERLAND
Day 1 – Tasch (S)

Day 2 – Andermatt (S)

Day 3 – Pontresina (S)

Day 4 – Pontresina (S)

Day 5 – Klontal (S)

Day 6 – Thun (S)
TOUR HIGHLIGHTS
Special Places – Zermatt/Matterhorn

Major Passes – Umbrail (#10), Nufennen (#11) Grand St. Bernard (#12) + Abula, Fluela and more

The iconic Stelvio Pass (#3) is just over the border – always an option

Smaller Passes – Glaubenbuelen, Ibergeregg, Kerenzerberg + more

More than 30 passes in total

Several high valley roads at 2,000+ meters ending at spectacular lake dam vistas

The steepest road used by Post bus (small steep road requires van sized Post bus)

The highest, oldest continually inhabited village in the Alps
NOTE – Totally Switzerland Routing
Astute readers of this page will notice that some of the passes and route description are similar to the Alps Select tour. That is because we ride some of the more famous and requested passes in order to get back and forth to Italy. Any duplicate passes are ridden in the opposite directions, which all Alps riders know provides a very different feeling going over a pass one way vs the other. We delve into a lot of the nooks and crannies of Switzerland on this tour that get by-passed on the Alps Select tour. The majority of the riding and passes per tour are definitely different by design so that Tour Members who do both the Totally Switzerland and Alps Select tours get a very different ride and appreciation for Switzerland on one tour and Italy on the other.
MOTO-CHARLIE reserves the right to alter the exact route at his discretion.
TOUR COST
The cost for this tour at the current exchange rates will be:
Single rider in a single room
$3,395 TOTALLY SWISS Tour (6 days)
Passenger sharing a double room
$2,175 TOTALLY SWISS Tour (6 days)
Couple riding two-up sharing a double room
$5,570 TOTALLY SWISS Tour (6 days)
Note: Switzerland is a little bit more pricey – but you get what you pay for. The costs above assume an average of $40 per night more for hotel rooms than the average $130/night used for other tour pricings
These cost numbers should cover your direct tour costs including motorcycle rental, all hotels, all meals, gas and my fee.

BRIEF TOUR DESCRIPTION
The focus of this tour is to take the roads less traveled and to explore smaller passes, really high valleys and several of Switzerland's more spectacular lake dam regions. Switzerland has an extensive network of lakes created by hydro electric dams located high up in the mountains. A few of the more impressive ones can be reached by car, motorcycle or bicycle for those willing to take the time to explore these dead end roads that go as high as some of the major passes up into the mountains – that's us. We will also mix it up by riding some great classic sweeping passes and we'll ride some uniquely Swiss experiences.
Most people like to arrive at least one day ahead of time to help with jet lag, see the local sights or get acclimated to their motorcycle, the roads and Euro riding in general via the free 1/2 day ORIENTATION DAY offered to all Tour Members. I'll be more than glad to help you plan whatever activity might be of interest to you.
Day 1 – We have numerous routing options today. One of my favorites is to take a 15-minute car train ride (a truly unique experience) through the mountain over to Goppenstien, which whisks us to the edge of the French speaking part of Switzerland. From here we ride to the Grand St. Bernard Pass, ride small high roads near the famous ski resort of Verbier, head up into the high mountains for one of Switzerland's remote passes and more. So much to ride, so little time. We end the night in the village of Tasch, at the foot of Zermatt and the Matterhorn.
Day 2 – Even hard core riders always ask if the route goes by the Matterhorn. On this tour it does. Of course it depends on the weather. It's usually most clear in the mornings, which is why we give it a look first thing today. If there are no clouds and we know the Matterhorn is visible we can take a very short walk over to the train station, take the 12 minute train up to to Zermatt and then onto the Gornergrat train up to the base of the Matterhorn. Afterwards we will ride our way up towards Andermatt, one of Switzerland's premier riding areas and home to some of Switzerland's most famous passes. We will enjoy one or two (including the Nufennen) before checking into our hotel in this quintessential Swiss Alps village.
Day 3 – Today we'll get to ride a little bit of everything, including the pass pictured at the top of this page. From there we'll keep on going over another famous major Alps pass before heading up into the mountains to dead end at the highest continually inhabited village in the Alps (and Europe) at 2,126 meters (6,975 feet). After enjoying a high-altitude snack break we continue on over both high valley roads and passes (5 in all) to our hotel for the night in Pontresina.
Day 4 – We're in luck today because our hotel includes a free travel card that lets us go up two of the highest cable cars in the Swiss Alps. We'll keep it in our back pocket and work one of those cable cars into our route. Most of route today will be nice 2-lane, fast flowing classic Alpine pass roads. Two of them in particular have lots of wide switchbacks and flowing sweepers, which allow for more liberated throttlehands than some of the the tighter 2-lane and single lane passes. Our route will include the Umbrail Pass (Switzerland's highest) and bring us within sight of the Stelvio Pass, the most famous riding pass in the Alps just across into Italy. We cheat a little bit, cross the border into Italy and take a sneak peak at Stelvio. Afterwards a quick blast down a valley road brings us back into Switzerland, up and over one of the quickist flowing passes of the tour and back to our double night stay in Pontresina.
Day 5 – Today we start working our way back west riding riding through Davos along the way. Davos is a wealthy ski town famous for hosting the annual World Economic Forum. Bill Gates, Warren Buffet, Jamie Dimon and Angela Merkel all forgot to bring their leathers, so we 'll forge on without them. We continue on towards the northwest region of Switzerland to enjoy the roads around Appenzell, which some experts consider the most traditionally "Swiss" region of the country. There are some beautiful small passes and a high valley lake dam frequesntly enjoyed by Swiss riders but rarely seen by North Americans. We end our riding day at a small lakeside hotel (one of only two on the lake) with dinner outside on the patio in a picture post card mountain setting surrounded by nature.
Day 6 – Timing is sometimes everything. In this case today is a week day and we start by riding up and over a neat 1-lane pass, which is closed to cars and motorcycles on the weekends. This pass gives us great views of last night's hotel lake down below. This wonderful little pass starts us on a series on smaller 1-lane and 2-lane passes, up to 6 in total. I am personally very fond of these kinds of passes. You can ride an entire pass and see maybe one or two cars, or none and maybe 2 or 3 motorcycle explorers, or none. You really do feel like you're seeing a different side of the country that most tourists and bikers don't – I like that. We break things up a little bit with a 20-minute ferry ride across one of Switzerland's bigger lakes before hitting 2 or 3 more smaller passes on our way to our base in Thun. We go back to the hotel, unload our gear and head to the rental shop to turn in our bikes. We wrap up a great tour with a group dinner at a lively old-town riveside restaurant and say our farewells, until the next tour 🙂 to our new found friends
Next Day – Many possibilities – Rest day before next tour, continue on with other Euro travel plans, fly home
KEY DATES
If you would like to come sooner, or stay longer, hotel and motorcycle arrangements can readily be made to suit your schedule.
When to book your reservation obviously depends on your schedule. As a rule I suggest

at least 3 months in advance

to ensure that you get the motorcycle that you want

and to secure a place on the tour. There is a limit of 7 motorcycles or 10 people, whichever comes first, per tour.
The final cut-off date is technically 30 days before the tour starts. If someone contacts me to sign up with less than 30 days to go every effort will be made to accommodate you. The issue will usually be the motorcycle availability.
MINIMUM NUMBER OF TOUR MEMBERS
5 riders or 7 Tour Members
HOW TO BOOK THIS TOUR
Please "Contact Me" by telephone or e-mail to book your spot on this tour. I am not a paperwork intensive person. So, the process of making a reservation and getting what I need for my records is pretty simple.
Feel free to contact me to ask any questions about my tours in particular, or the Alps in general. If I can be of help in any way I'll be glad to do so.
Final Thought – "TOTALLY SWISS Tour" – The tour to pick if time is short, you want a lot of riding and you have a keen desire to explore Switzerland. The country is every bit as pretty as the pictures make it look. The mountains are filled with all kinds of riding delights and cool places to see. I really like Switzerland. You could easily spend double or triple the time of this tour finding all its more remote secrets. Fortunately for you I have already done that and I have brought together a great variety of roads, passes, lake dams and other unique riding experiences to make sure you get the most out of your Perfect Escape

.