QUICK LINKS
About This Tour
Where We Go
Tour Highlights
Tour Cost
Brief Tour Description
Key Dates
Minimum Number of Tour Members
How To Book This Tour 
ABOUT THIS TOUR
The simple fact is that the French Alps are loaded with great passes, big and small. The Highest of the High are here including 5 of the TOP 10 or more accurately 5 out of the top 6 (#3 is in Italy). New Alps riders tend to gravitate to Switzerland, Austria and the Italian Dolomites, perhaps because they are better promoted as "Alpine" and as tourist destinations with a full support system of hotels, transportation and activities. The French Alps are a little more remote, the towns and villages more spread out and the services are  further apart. But it also has the really HIGH stuff, good road surfaces, a motorcycle friendly culture and excellent dinner wine – basically everything you could ask for and then some.
It's no wonder that prior Tour Members who tour the French Alps struggle thereafter to say which Alpine region they like best. The French Alps always take them by surprise. It's where the Euro bikers go when looking for something different and they want to ride the Highest of the High.
| | |
| --- | --- |
| DATES 2023: | Two Tours: June 6 – 13, September 13 – 18 |
| DATES 2024: | Two Tours: June 6 – 11, September 18 – 23 |
| TOUR LINK OPTIONS: | June Alps Select after – September Essential Alps before, Awesome Austria after  |
| START/FINISH: | Thun Switzerland |
| RECOMMENDED AIRPORT: | Zurich |
| DURATION: | 6 Riding Days |
| DISTANCE: | 200 kms – 300 kms per day (120 miles – 180 miles) – Asphalt roads |
| DIFFICULTY: | 4 out 5 stars |
| COUNTRIES VISITED: | Switzerland and France |
| LAYOVER DAYS: | 3 – Guillestre (Can ride or rest) |
| ACCOMODATIONS: | 2 to 4 star hotels – family run Local style |
| MINIMUM # OF RIDERS: | 5 |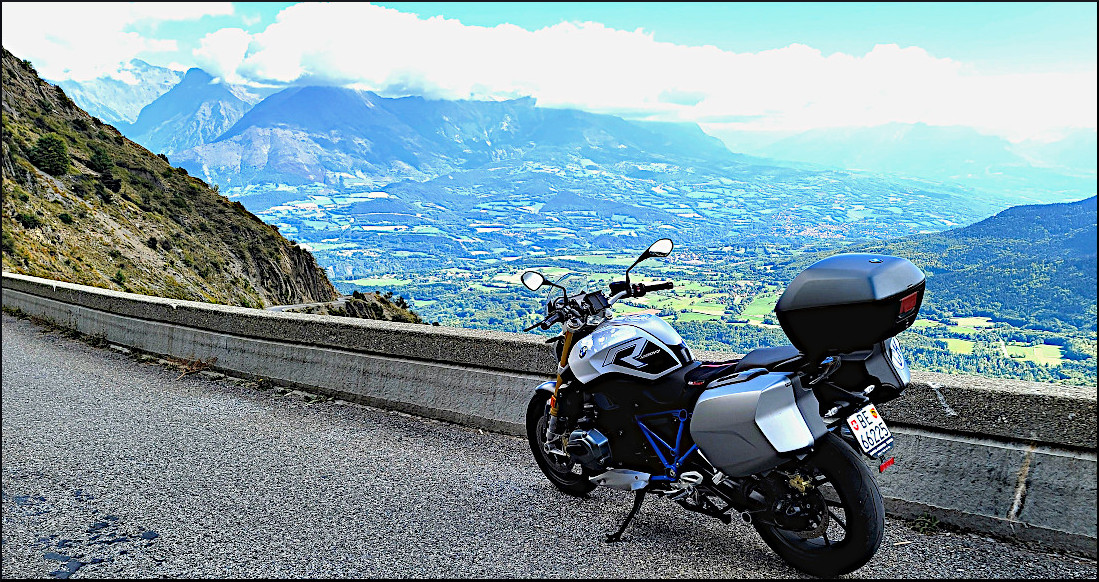 WHERE WE GO
FRENCH ALPS LOOP
Day 1 – Bourg St. Maurice (F)

Day 2 – Guillestre (F)

Day 3 – Guillestre (F)

Day 4 – Guillestre (F)

Day 5 – Chamonix (F)

Day 6 – Thun (S)
TOUR HIGHLIGHTS
Special Places – Chamonix/Aiguille du Midi Cable Car up to Mont Blanc

Major Passes – (#6), (#5) (#4) (#2) and Cime de la Bonette (#1) + more

Smaller Passes – Col de La Madeleine, Lacets de Montvernier (like an intense mini Stelvio) + more

More than 25 passes in total

Numerous passes are part of the Tour de France

Many of these passes are part of the Routes des Grandes Alpes, which runs from the Mediterranean up to Switzerland
MOTO-CHARLIE reserves the right to alter the exact route at his discretion.
TOUR COST
The cost for this tour at the current exchange rates will be:
Single rider in a single room
$3,205 FRENCH ALPS LOOP Tour (6 days)
Passenger sharing a double room
$2,005 FRENCH ALPS LOOP Tour (6 days)
Couple riding two-up sharing a double room
$5,210 FRENCH ALPS LOOP Tour (6 days)
These cost numbers should cover your direct tour costs including motorcycle rental, all hotels, all meals, gas and my fee.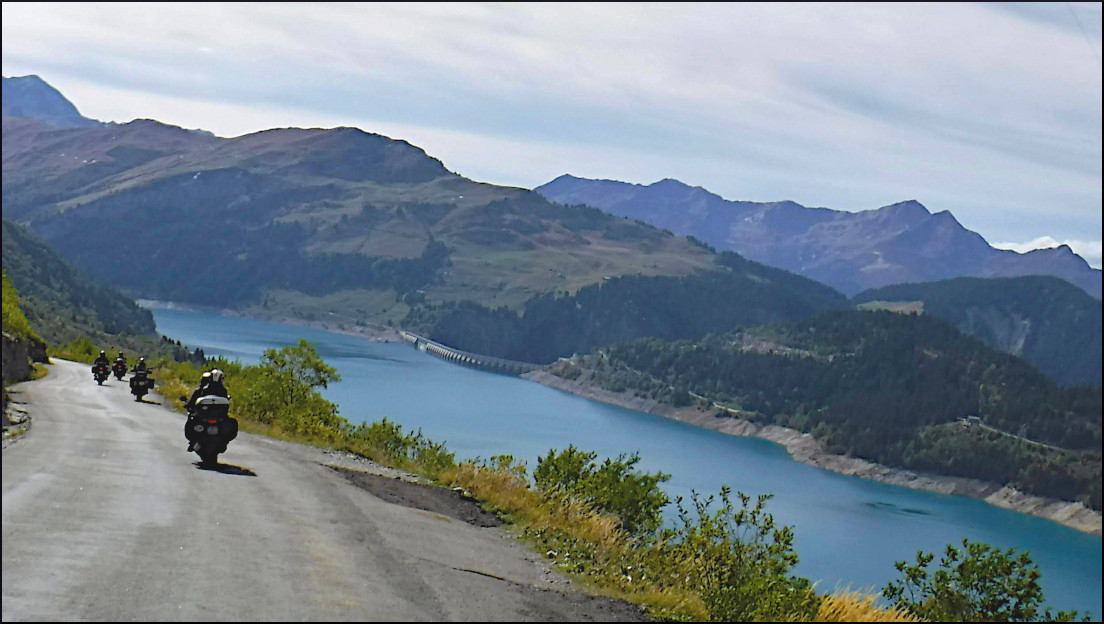 BRIEF TOUR DESCRIPTION
As the tour name says – we ride a big 6-day loop focused on hitting all 5 of the 6 highest passes in the Alps. Depending on the weather and my inclination we either ride the loop clockwise (if you are looking at a map) or counter-clockwise. The tour runs twice a year, so I will likely alternate the orientation each tour. We hit a several smaller Swiss passes the first half of the first day as we head south to France. By the afternoon of the first day we are already summiting famous high passes including #12 and we just keep on going higher for the next 5 days. We will ride a wide variety of passes on this tour – very cool.
Most people like to arrive at least one day ahead of time to help with jet lag, see the local sights or get acclimated to their motorcycle, the roads and Euro riding in general via the free 1/2 day ORIENTATION DAY offered to all Tour Members. I'll be more than glad to help you plan whatever activity might be of interest to you.
Day 1 – Our mission today is to get to France, so we take a direct route, while keeping autobahn riding to a minimum. To do that we ride through Swiss valleys, towns and over several smaller passes until we make our way to Martigny. From there we head up (literally) the valley that takes us to the Grand St. Bernard Pass (#12) and into Italy. From there we head back down into the Aosta Valley, up over another high pass into France. It's all a long, long downhill viewing adventure as we make our way to our hotel for the night in Bourg St. Maurice.
Day 2 – We don't waste any time today as we start the route by heading to the top of the Col de l'Iseran (#2). On our way we pass through the town of Val de l'Isere, a major French ski area and site of the 1992 Winter Olympic Alpine events. The views into the valleys, towns and lake are pretty impressive as we get near the top. The weather is quite variable here and we've seen it all at the top of this pass from warm sunny days to snow and howling wind – great pass. From here it is the classic motorcycle touring regimen – down, up, down, up, down, up, down again (4 separate and unique passes today) before we ride into the town of Guillestre for our 3-night stay here.
Day 3 – We have a couple of routing options today, either out and back or a big loop. Either way our primary target today is Col Agnel (#4). Like many high French passes the road to the top climbs deceptively as we ride a long meandering road through tiny village, with wide open valley hills on both sides, mostly grassy with the occasional tree(s). Next thing you know the grass has disappeared, the ground is mostly rock and gravel, you hit a series of steep switchbacks and then at you're on the top at 2,744 meters (9,003 feet). The border into Italy is at the top and the ride down the Italian side is steeper with more switchbacks. From here our options include 3 more passes including tiny mountain roads as part of a big loop back to Guillestre, the frequently chosen option of an addtional pass and then a ride back over the Col Agnel in the opposite direction (a completely different experince) and sometimes we visit the village of Saint-Véran, the highest village in France at 2,042 meters.
Day 4 – After a hearty French breakfast we turn our focus back to the mission at hand, the Highest of the High – that happens today. We head south and within 1/2 an hour we are heading up out first pass of the day. Like many French passes the road is free flowing, the switchbacks reasonably wide and the tar is good. This pass has roadside moto-photographers who take your picture(s) on the switchbacks, for sale a day or two later on their website. To the top and back down, a valley road and then we start up the Col du Restefond (#5) and from there it on up to #1 – Cime de la Bonette at 2,862 meters (9,390 feet).  The French "fudge it" a little bit here as the actual pass or col (Col de la Bonette) is actually at 2,715 meters (8.907 feet), which would be #5. But they built a 2 km loop road at the top that circles the Cime de la Bonette up to 2,862 meters and that is how they get the Highest of the High. After lunch can loop over several smaller passes or reverse course and ride the whole route back in the opposite direction for a completely different perspective. We have come all this way, may as well enjoy it.
Day 5 – Today we start working our way back north. After an hour's ride up and down valley roads we reach the start of today's highest pass, the Col du Galibier. It's #5 on the TOP 10 list at 2,645 meters (8,678 feet). The start of Col du Galibier is somewhat unique in that it starts from the top of another pass, the Col du Lautaret at 2,058 meters (6,752 feet). There is a tunnel near the top in case the weather is really bad at the very top. The views from the top of this pass are stunning and look very different depending on whether you're looking north or south. We continue over 3 more passes before we lunch back in Bourg St. Maurice. We ride another 3 more smaller passes before we make it to our hotel in Chamonix. It's a long day but it is filled with all the riding you want and some of the most beautiful and scenic passes in the Alps. 
Day 6 – We spend the night in Chamonix so that we can enjoy one more final High of the Highest adventure – Mont Blanc, which is the highest mountain in the Alps. Chamonix is right at the base of the mountain and the famous Aiguille du Midi cable car is in the center of Chamonix, within easy walking distance of our hotel. The cable car is the 2nd highest in the Alps and has the longest continual cable on the 2nd leg. The highest viewing platform is at 3,842 meters (12,604 feet). The air is thin and you definitely feel it. The view and vistas are simply spectacular every direction you look – it's all snow up there. You can watch various hiking groups and mountain climbing groups head out, parasailers gliding below and the occasional airplane just above. Every single Tour Member agrees that it is a great finale to this high Alps tour. Once back in Chamonix we head over 3 smaller French passes and 3 more smaller Swiss passes on our way to our base in Thun. We go back to the hotel, unload our gear and head to the rental shop to turn in our bikes. We wrap up a great tour with a group dinner at a lively old-town riveside restaurant and say our farewells, until the next tour 🙂 to our new found friends
Next Day – Many possibilities – Rest day before next tour, continue on with other Euro travel plans, fly home
KEY DATES
If you would like to come sooner, or stay longer, hotel and motorcycle arrangements can readily be made to suit your schedule.
When to book your reservation obviously depends on your schedule. As a rule I suggest

at least 3 months in advance

to ensure that you get the motorcycle that you want

and to secure a place on the tour.

There is a limit of 7 motorcycles

or 10 people, whichever comes first, per tour. 
The final cut-off date is technically 30 days before the tour starts. If someone contacts me to sign up with less than 30 days to go every effort will be made to accommodate you. The issue will usually be the motorcycle availability.
MINIMUM NUMBER OF TOUR MEMBERS
5 riders or 7 tour members
HOW TO BOOK THIS TOUR
Please "Contact Me" by telephone or e-mail to book your spot on this tour. I am not a paperwork intensive person. So, the process of making a reservation and getting what I need for my records is pretty simple.
Feel free to contact me to ask any questions about my tours in particular, or the Alps in general. If I can be of help in any way I'll be glad to do so.
Final Thoughts – "FRENCH ALPS LOOP Tour" – The tour to pick if time is short and  you want the real deal, the Highest of the High passes, the highest mountain and even the highest village in France. It comes with all the riding you can get, all the altitude you can handle and the fun and adventure that you will remember for a lifetime. You can gorge yourself on a frenzy of pass blasting, conspicuous croissant consumption and scenery overload but it is the riding that you will remember. That's what this tour is all about

.