Welcome to my website. I provide guided, personal-service, low cost, small group, motorcycle tours of Europe and the Alps . There are 6 tours in 2021 with riding options ranging from 6 days to one month that cover the Alpine regions of Switzerland, Italy, Austria, France and Germany.  
Think of it as a group ride with friends and I'm one of your friends.
I've been there and done it ALL before, so you get to relax and enjoy an unforgetable, no-hassle, seamless motorcycle adventure all while experiencing some of the best riding in the world.
My simple focus has always been on the riding. I was one of the very first tour providers to offer guided "stripped down" tours – no chase vehicles, no extraneous pampering and no fancy tour paraphernalia.
Instead you get a friendly, relaxed approach, brand new motorcycles, quality hotels, fantastic roads, unbelievable scenery and great comradery all at a tour-on-your-own price.
I started Alps Tours more than 20 years ago because I love to ride AND I love the Alps. I ride all day every day – it never ever gets old. I enjoy sharing my passion for Alpine wanderlust with my Tour members.
Everyone who signs up for an Alps tour expects it to be a great, but it really makes my day when Tour Members tell me that my tour was 

WAY  better than expected

.
Start by clicking here >>>  TOUR DATES AND BASICS  to get an overview of how it all works

Note: Words in "light blue" are linked to additional useful information – More Helpful Info is shown below

See what some other tour members think of my tours by clicking onto my TESTIMONIALS.
Feel free to CONTACT ME to book a tour or help you plan your Alps Tour adventure. 
"I was looking for a tour that was a small group of experienced riders staying at local hotels, eating at local restaurants and all the back/small road riding one could fit into a day. The key ingredient was an experienced tour leader so I could mindlessly enjoy the entire alpine riding experience never looking at a map or thinking about accommodations/meals. This tour met all my expectations."

Barry B – Ontario Canada

"From the beginning, I knew Charlie was very well organized and a good communicator. During the tour, Charlie's many years of riding in the Alps were obvious. He knew the roads like he lives there. How he even found some of the roads we drove I don't know. His ability to remember places, roads, and routes was amazing. If anyone is considering touring in the Alps, I would highly recommend you check out Moto-Charlie."

Rick R – Minnesota USA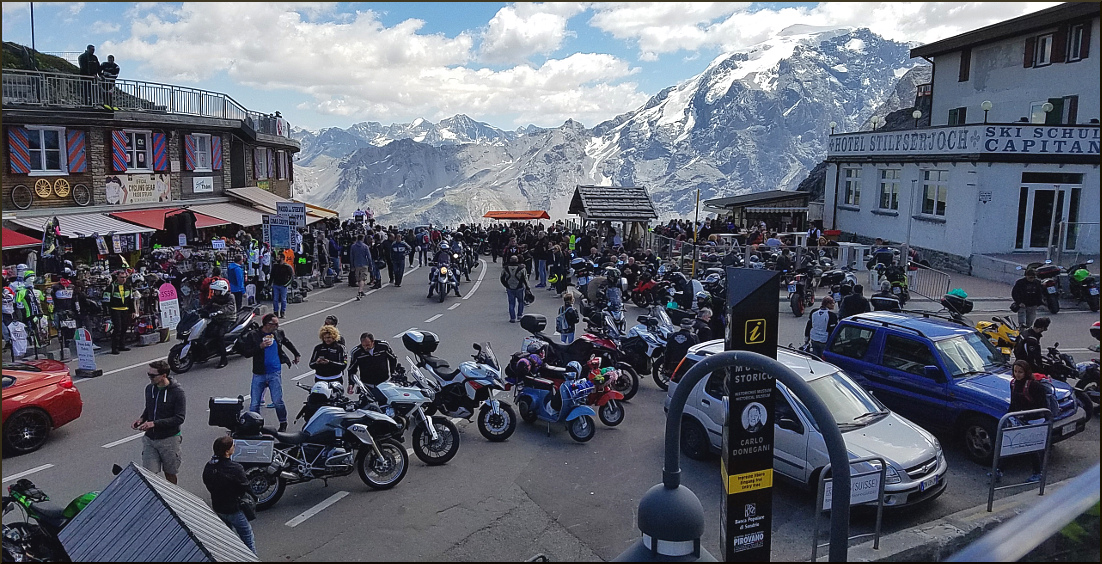 HELPFUL INFO:
If you wonder whether a Moto-Charlie tour is for you click here.
The FAQ section deals with related topics such as weather, daily riding distance, what to bring, tour materials and a host of other items
Follow @alpstours on Instagram
I love the Alps. I love the roads, the mountain views, the food, the culture, and the motorcycle friendly environment. Everyone who rides the Alps knows that it is Motorcycle Heaven. The expression "It doesn't get any better than this" must have originated on an alpine motorcycle trip.