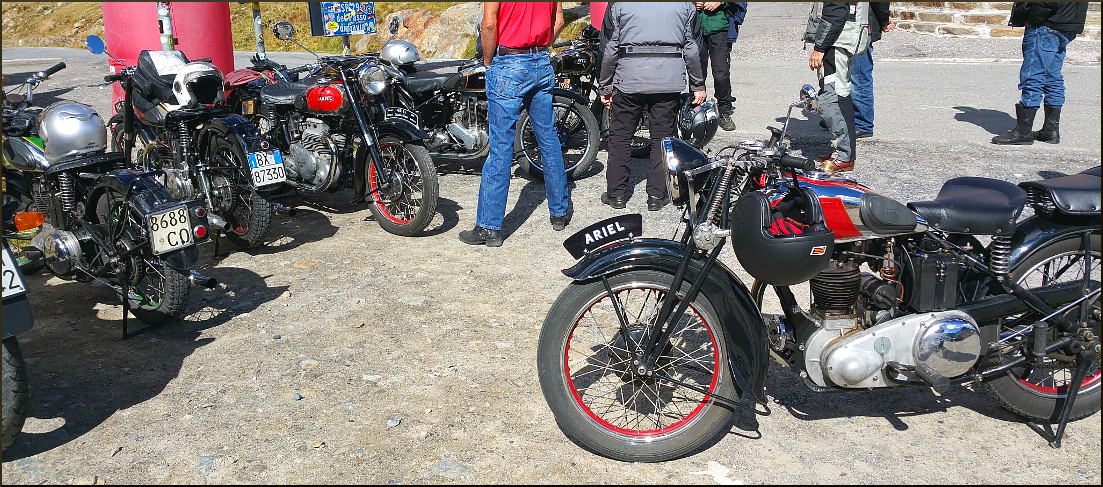 QUICK LINKS
Basic Overview
Why This Rental Provider
Motorcycles and Rates
The Bonus Package
Related Links
BASIC OVERVIEW
We ride brand new BMW's and KTM's on my tours. These are always current year models, which means they are trouble free. The rental shop has a great service reputation and they treat my Tour members with the same high level of care that I do. I can also assist non-tour members looking to base in Switzerland with renting a motorcycle from my long-time rental provider. Please see the list below.
The wide variety of bikes available means that you are sure to find a motorcycle that you will enjoy.
The motorcycles are all current year model bikes – so the list is updated every year as new models are introduced. It's a great way to go for an extended test ride prior to buying a motorcycle back home.  Full insurance is included in the price. Hard or soft luggage can be rented at a small additional charge for those bikes that do not come standard with hard bags. You have a choice of renting with 200 kilometers per day (which works fine if you plan to do some non-motorcycling events during the lay-over days) or unlimited kilometers.
While it sometimes involves more effort other rental brands can be obtained from different shops.  The trade-off is the easy access convenience of getting to/from the rental shop located in our home-base town.  On the other hand if you really have your heart set on a different brand and the extra time needed to pick it up and return it to an out of the way location feel free to request it and I will be glad to make the arrangements for you to pick it up.
WHY THIS RENTAL PROVIDER – CONVENIENCE VERSUS COST?
For me convenience is everything. I also want to be at a decent hotel close to the dealer so I can maximize my riding time as opposed to spending precious time commuting back and forth to pickup and drop-off the bike. This can be particularly important if there is an emergency that requires you to quickly return the bike, pickup your luggage, and hit the airport to head home. Trust me, I know this from actual experience. I choose the rental shops in large part based on their proximity to a comfortable hotel and local public transportation.
I have chosen our specific rental shop for several reasons:
The dealer provides brand new bikes, with luggage and comprehensive insurance. They have an excellent reputation for service and reliability (plus the owners speak fluent English).
The shop is one of the largest in Switzerland with a huge accessory department. Here you can find gear for the tour, for your rides back home or for the important item(s) that you forgot bring in your rush to hit the road and start riding. The shop also has a great indoor/outdoor cafe, which attracts bikers and non-bikers all-day long and gives us a place to hang out if our bikes or gear require service.
There are bus and rail connections for easy access to the local sites such as Interlaken, Lauterbrunnen and Grindelwald (assuming you don't want to ride your motorcycle to get there).
The dealer is right in the city, close to our hotel and easy to get to from the airport, autobahn and train station.
Thun is in the heart of some of the best riding in the Alps. This means that whether we are heading out on tour or coming back, we will have great riding right up till the time we park the bikes at our hotel.
RENTAL MOTORCYCLES AND RATES
The CURRENT YEAR list is usually released by the rental shop in February or March once it determines which new, prior or old models with be available and which ones it will be selling and renting. The rental fleet list is generally the same year to year adjusting for new or discontinued models. I have been making reservations for the current season from the list without issue. I will update the list to this year's models as soon as it is available.
| | | |
| --- | --- | --- |
| | | May 2019 |
| | Price Per | Exchange |
| | Day | Par With USD |
| | Swiss Francs | 0.98362 |
| BMW | | |
| S 1000 RR | 170 | 167 |
| K 1600 GTL | 170 | 167 |
| K 1600 GT | 170 | 167 |
| K 1600 B | 170 | 167 |
| S 1000 XR | 154 | 151 |
| S 1000 R | 154 | 151 |
| R 1250 RT | 154 | 151 |
| R 1250 RS | 154 | 151 |
| R 1250 GS ABS | 154 | 151 |
| R 1200 GS Adventure | 154 | 151 |
| R nine T Racer | 138 | 136 |
| R nine T | 138 | 136 |
| R 1250 R | 138 | 136 |
| F 850 GS | 105 | 103 |
| F 800 R | 105 | 103 |
| F 800 GT | 105 | 103 |
| F 850 GS | 105 | 103 |
| F 850 GS Adventure | 105 | 103 |
| F 750 GS | 105 | 103 |
| G 310 R | 97 | 95 |
| G 310 GS | 97 | 95 |
| | | |
| | | |
| KTM | | |
| 1290 Super Duke GT | 154 | 151 |
| 1290 Super Adventure T | 154 | 151 |
| 1290 Super Duke R | 154 | 151 |
| 790 Adventure | 105 | 103 |
| 790 Duke | 105 | 103 |
| 690 Duke R | 105 | 103 |
| 390 Duke | 97 | 95 |
THE BONUS PACKAGE
The rental shop provides a special package designed for the multi-day long distance rider – which is us. The Bonus Package is a 30% add-on and includes the following:
Unlimited kilometers vs 200 kms/day in the standard rate. The shops says the majority of its renters don't exceed the 200 km/day average (for example an 11 day tour would be be 2,200 kms). Some couples on my tour that elect to take a day or 2 off to sight see or the very, very rare tour where the weather is rainy day after day such that we shorten the daily routes will see us come in near that 200 km/day average. However, 90% of my tours average 275 – 325 kms/day, some a little more – so unlimited kms is a good thing.
Side cases for bikes that aren't sold with them standard. A bike like the BMW R1200RT is sold with side cases so they are included in the rental rate. Bikes like the R1200GS, BMW F800R, Hondas, KTMs, etc sell the factory cases as an accessory. That means the cases would have to be rented separately, which adds up.
A reduction in the standard damage deductible from 2,000 CHF to 1,000 CHF. There is a damage deductible due at pick-up (this is true for every rental shop, some of which charge 3000 – 5000). If the bike is returned undamaged the entire deposit is refunded. Unfortunately rental bikes are frequently returned with some damage. This usually happens because someone forgets to put the kickstand all the way down, they park it in a bad place while trying to take a picture, another tour members bumps bag to bag while parking etc. It's Switzerland, so the cost to replace bent and scratched parts adds up quickly. The Bonus Package reduces the deductible due at pick-up and caps your potential out-of-pocket at 1,000 CHF
I always take the Bonus Package and recommend that my Tour Members do too. You can purchase extra km packages and reduced damage insurance separately and also rent the side cases separately, but the Bonus Package is a much more cost effective way to get these benefits. I'd be glad to answer any questions about the BP or the list in general – feel free to ask.
RELATED LINKS
If you would like more information about each of the BMW and Honda models click on the web address below. When you are finished at the site, click on the "back" button of your browser to return to MOTO-CHARLIE.
For information about license and deposit requirements click HERE or check out the FAQ section.