QUICK LINKS
About This Tour
Where We Go
Tour Highlights
Tour Cost
Brief Tour Description
Key Dates
Minimum Number of Tour Members
How To Book This Tour
ABOUT THIS TOUR
Austria is a beautiful country, similar to Switzerland but more laid back and cheaper. The roads and possible routes are numerous, so we can ride as much or as little per day as Tour Members want to. Every Tour Member who rides in Austria wants to go back. It's got great riding, spectacular scenery and a biker friendly culture. This tour is for those riders who know just how cool Austria is and want to get to know it a LOT better.
This tour also does a great job at double duty – you have the option to link this tour to the French Loop Tour as part of the TOP 10+ Highest Passes Tour.
| | |
| --- | --- |
| DATES 2023: | September 21 – 30 |
| DATES 2024: | September 26 – October 5 |
| TOUR LINK OPTIONS: | French Loop before – when combined = TOP 10+ Tour |
| START/FINISH: | Thun Switzerland |
| RECOMMENDED AIRPORT: | Zurich |
| DURATION: | 10 Riding Days |
| DISTANCE: | 200 kms – 300+ kms per day (120 miles – 180+ miles) – Asphalt roads |
| DIFFICULTY: | 3.5 out 5 |
| COUNTRIES VISITED: | Switzerland, Austria, and Italy |
| LAYOVER DAYS: | 1 – Bruck an der Grossglocknerstrasse (can ride or rest) |
| ACCOMODATIONS: | 2 to 4 star hotels – family run Alpine style |
| MINIMUM # OF RIDERS: | 5 |
WHERE WE GO
AWESOME AUSTRIA
Day 1 – Rothis (A)

Day 2 – Zell Am Zeller (A)

Day 3 – Zell Am See (A)

Day 4 – Zell Am See (A)

Day 5 – Millstatt (A)

Day 6 – Corvara in Badia (I)

Day 7 – Imst (A)

Day 8 – Pontresina (S)

Day 9 – Andermatt (S)


Day 10 – Thun (S)
TOUR HIGHLIGHTS
Special Places – Hallstatt, perhaps the most beautiful and photographed lake village in the Alps (see photo above)

Special Places – The Kölnbrein Dam, the tallest dam in Austria with a fun road to get there

The Grossglockner High Alpine Road – home to Austria's highest pass and a motorcyclist's playground

The Nockamstrasse – considered by many motorcyclists to be one of the most fun to ride and scenic roads in the Alps

Ötztal Glacier Road – The 2nd highest paved road in Europe – Even higher than the highest #1 pass

Major Passes – (#10), (#9) (#8) (#7) and the incomparable Passo Stelvio (#3) + more

Smaller Passes – too many to mention including passes so narrow that traffic only goes 1-way every 1/2 hour – very cool

More than 45 passes in total
NOTE – Awesome Austria/Essential Alps Routing
Astute readers of this page will notice that some of the passes and route description are similar to the Essential Alps tour. That is because both tours are designed to make sure we hit 5 of the TOP 10 passes not in France in case Tour Members are looking to combine this tour, or the Essential Alps tour, with the French Loop in order to complete the TOP 10+ tour. Any duplicate passes are ridden in the opposite directions, which all Alps riders know provides a very different feeling going over a pass one way vs the other. The majority of the riding and passes per tour are definitely different by design so that Tour Members who do both the Essential Alps and Awesome Austria tours get to enjoy a very different ride, visual feast and cultural experinece.
MOTO-CHARLIE reserves the right to alter the exact route at his discretion.
TOUR COST – 10 Days
The cost for this tour at the current exchange rates will be:

Single rider in a single room

$5,025

 – AWESOME AUSTRIA Tour
Passenger sharing a double room
$3,025 – AWESOME AUSTRIA Tour
Couple riding two-up sharing a double room
$8,050 – AWESOME AUSTRIA Tour
These cost numbers should cover your direct tour costs including motorcycle rental, all hotels, all meals, gas and my fee.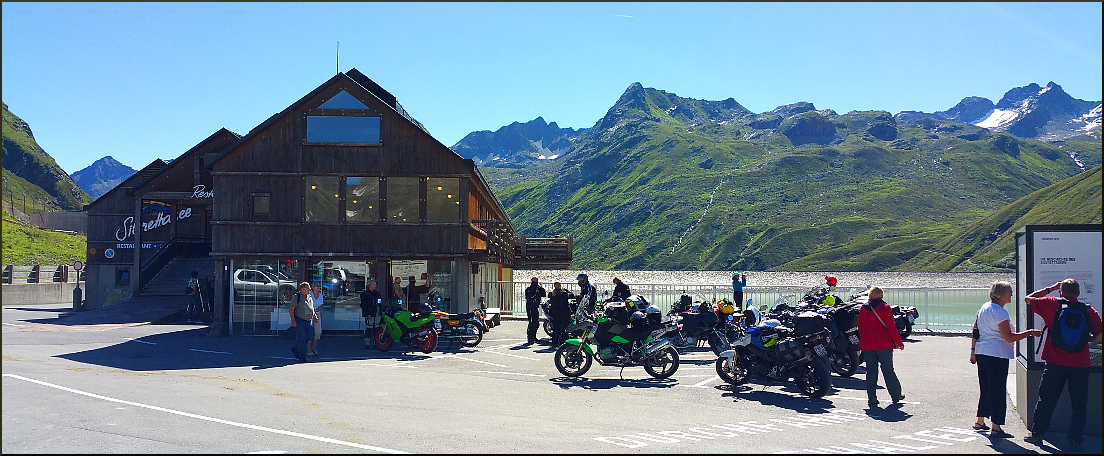 BRIEF TOUR DESCRIPTION
This tour is about enjoying Austria with a focus on riding. We spend 6 nights in Austria and we cover much of the Alpine spine that runs through it from east to west and back again. Austria in particular has lots of high passes, wonderful small passes, high valley roads and beautiful lakes. The route is designed to mix it all up. Highways are strictly forbidden. This tour will show you why Austria is a truly unique motorcycle paradise.
Most people like to arrive at least one day ahead of time to help with jet lag, see the local sights or get acclimated to their motorcycle, the roads and Euro riding in general via the free 1/2 day ORIENTATION DAY offered to all Tour Members. I'll be more than glad to help you plan whatever activity might be of interest to you.
Day 1

– We head straight for Austria today as we head east along the Thuner See ("see" is the german word for lake) and the Brienzer See on our way to a couple of high Swiss passes. Along the way we stop for a scenic lunch high up on the edge of a mountain side that looks down on a large lake and valley below. After lunch we ride along the lake and cross into Liechtenstein where we might have tea with the Prince if he is available. From there it is on to Austria where we enjoy small villages and pretty valley roads.  
Day 2 – Today is all about riding beautiful smaller 2-lane passes and high valley roads and we continue to work our way east. We can easily ride up to 300 kms or more today. After we enjoy several smaller passes we ride over the Kuhtai road. At over 2,000 meters this road is higher than many passes. It also goes by the Kuhtai ski resort, the highest ski resort in Austria. From there we continue to meander over more small passes as well as the Zillertal High Road. This road offers spectacular scenery of the valley below and is also over 2,000 meters high. It brings us to our hotel for the night in Zell am Zeller.
Day 3 – We continue to work our way east across Austria today as we partake in the cornucopia of unbelievable small passes and high valley roads that is Austria. This is another day where can easily ride 300 kms or more. Along the way we wander through high valley road that lead up and past major ski areas located high up in the mountains, we enjoy a tasty lakeside lunch, ride the Gerlos Pass and eventually end up at our hotel in Zell Am See on the beautiful Lake Zell, where will stay for 2 nights.
Day 4 – Today we ride a big loop comprised of a little bit of all kinds of roads and highlighting the Grossglockner High Alpine road. We initially ride the Staller Sattel. The Austrian side is fine, but the Italian side is so narrow that traffic is only allowed to go 1-way on a portion of it every 1/2 hour. After lunch we double back east into Austria and head for the Grossglockner. This absolute gem of a road is one of the most famous in the Alps and is one of the top three tourist attractions in Austria. It runs for almost 30 miles up and over the highest pass in Austria, the Hochtor Pass (#8) at 2,504 meters (8,215 feet). There is a side road that goes to a famous glacier that is melting rapidly and a small short side road that goes even higher than the Hochtor with panoromic views of the Austrian Alps and lots of switchbacks and viewing areas. It is not uncommon for us to go back and forth over this road to soak up all its goodness.
Day 5 – Like the motorcycle nomads we are we continue to roam further west across the Austrian Alps. Our target is the the Nockalmstrasse. The road runs for 35 kms (21 miles) through the Nockberge Park in the Carinthian region of Austria. The road has 52 bends and switchbacks and is considered one of the prettiest roads in Austria by both tourists and motorcyclists alike. The pass is approx 2,049 meters (6,722 feet) high. We work our way down the either side of the Nockalmstrasse and end up at our hotel near the lake in Millstatt.
Day 6 – We have accomplished our mission of riding 2 of the most beautiful and famous Alpine roads in Austria – so now we start to work our way back west – sort of. We start by actually going south into Italy via the Plocken Pass. It is a pretty little pass. Once into Italy we enter the Dolomites where there is excellent coffee, delicious pasta and great windy roads and passes. The Dolomites are motorcycling Nirvana and we continue west while enjoying several large and small passes on our way to our hotel in Corvara.
Day 7 – We spent the night in Italy so that you can get a taste for the Dolomites (I promise you WILL want to come back to ride them some more) and specifically so that we can head up and over the Timmelsjoch Pass (#9) back into Austria. The Italian side is a wild and spectacular ride up to 2,509 meters (8,232 feet). The valley road also leads us to the Ötztal Glacier Road – the 2nd highest paved road in Europe at 2,830 meters (9,285 feet), which is 28 meters higher than the highest pass in the Alps. If weather and time permit we might even get to ride the highest cable car in Austria before we make it to our hotel in Imst.
Day 8 – Our plan is simple – hit the 3 remaining (out of 5) top 10 passes on this tour route. Fortunately for us they are all within striking distance of each other. We leave and head to Italy for  Gavia Pass (#7). I love its wildness. Of course we will ride the legend that is Passo Stelvio (#3) with it unmatched views of switchbacks upon switchbacks (approx 50 to a side) not to mention the carnival like atmosphere at the top. We will also stop by the Umbrail (#10). It's a beautiful pass in its own right but something of a forgotten stepchild to the Stelvio, which is within sight of the Umbrail and ONLY 256 taller. We continue into Italy for a quick ride before heading back up into Switzerland over the Bernina Pass – no slouch either at #19 and on into Pontresina for the night.
Day 9 – We need to get back to our base in Thun somehow, so why not get there via some of Switzerland's crown jewel passes in Andermatt. We head west over some high classic Swiss passes like the Julier, several smaller passes and high valley roads and then over the Oberalp Pass into Andermatt, the quintessential Swiss Alpine village. We should be there in pleanty of time to enjoy several of the 6 major passes and some of the outstanding dead end high dam lake roads that are all around this area. A rider can easlily spend a couple of days riding all the roads in this region. Our hotel for the night has a great kitchen and excellent food.
Day 10 – Today we will ride some more of the high passes that make the Andermatt region the top riding area in Switzerland. We will also stop by the Rhone Glacier on the Furka pass. This glacier is the poster child for glacial melting and global warming and has shrunk significanly just in the time I have been touring the Alps. You will be amazed and saddened once you see it. However, everyone perks up when we stop by the Brienzer See lake for a final lunch and strudel to commemorate a fantastic tour. 

We go back to the hotel, unload our gear and head to the rental shop to turn in our bikes. We wrap up a great tour with a group dinner at a lively old-town riveside restaurant and say our farewells, until the next tour 🙂 to our new found friends
Next Day – Many possibilities – Rest day before next tour, continue on with other Euro travel plans, fly home
KEY DATES
If you would like to come sooner, or stay longer, hotel and motorcycle arrangements can readily be made to suit your schedule.
When to book your reservation obviously depends on your schedule. As a rule I suggest at least 3 months in advance

to ensure that you get the motorcycle that you want

and to secure a place on the tour. There is a limit of 7 motorcycles or 10 people, whichever comes first, per tour.
The final cut-off date is technically 30 days before the tour starts. If someone contacts me to sign up with less than 30 days to go every effort will be made to accommodate you. The issue will usually be the motorcycle availability.
MINIMUM NUMBER OF TOUR MEMBERS
5 Bikes or 7 Tour Members
HOW TO BOOK THIS TOUR
Please "Contact Me" by telephone or e-mail to book your spot on this tour. I am not a paperwork intensive person. So, the process of making a reservation and getting what I need for my records is pretty simple.
Feel free to contact me to ask any questions about my tours in particular, or the Alps in general. If I can be of help in any way I'll be glad to do so.
Final Thought – I enjoy all of my tours very much. Riding on great roads with great people is why I do it. Anyone who has been to Europe knows that it is simply chock full of wondrous places and beautiful things to see and do. This tour is designed to let Tour Members ride as much, or as little, but mostly as much as they want while providing them the opportunity to sample Austria's most spectacular roads. I really really like Austria and I know you will too

.