QUICK LINKS
About This Tour
Where We Go
Tour Highlights
Tour Cost
Brief Tour Description
Key Dates
Minimum Number of Tour Members
How To Book This Tour
ABOUT THIS TOUR
My "Alps Select" tour picks the crème de la crème of Alpine riding highlighting outstanding scenery along with wonderful towns, lakes and cultural attractions. Most Alpine motorcycle experts, including John Hermann ("King of the Alps") consider the Andermatt region in Switzerland and the Dolomites of Italy to be the "must ride" roads of the Alps. In between these two motorcycling Mecca's we conquer 3 of the highest passes in the Alps including the famous switchback laden Passo di Stelvio, the wild and beautiful Passo di Gavia and the Umbrail pass. We can expect to ride 50 – 60 passes. It really is the best of the best.
This tour also includes the beautiful town of Riva on the northern edge of Lago di Garda on the southern edge of the Alps. Riva and the surrounding area are definitely Italian with a very different feel from the Germanic regions to the north. Here we can enjoy dinner by the lake, nightlife in the old town or take a boat tour on the lake. The riding in the surrounding high hills and mountains overlooking the lake is pretty special too. Many Tour Members consider Riva to be a major lighlight of their tour.
| | |
| --- | --- |
| DATES 2023: | June 17 – 27 |
| DATES 2024: | June 15 – 25 |
| TOUR LINK OPTIONS: | French Loop before, Swiss Loop after, all 3 together |
| START/FINISH: | Thun Switzerland |
| RECOMMENDED AIRPORT: | Zurich |
| DURATION: | 11 Riding Days |
| DISTANCE: | 200 kms – 350 kms per day (120 miles – 210 miles) – Asphalt roads |
| DIFFICULTY: | 4 out 5 |
| COUNTRIES VISITED: | Switzerland, Austria, and Italy |
| LAYOVER DAYS: | 2 – Corvara, 1- Riva del Garda, 1 – Pontresina = 4 Total (can ride or rest) |
| ACCOMODATIONS: | 2 to 4 star hotels – family run Alpine style + 4 star lakeside hotel in Italy |
| MINIMUM # OF RIDERS: | 5 |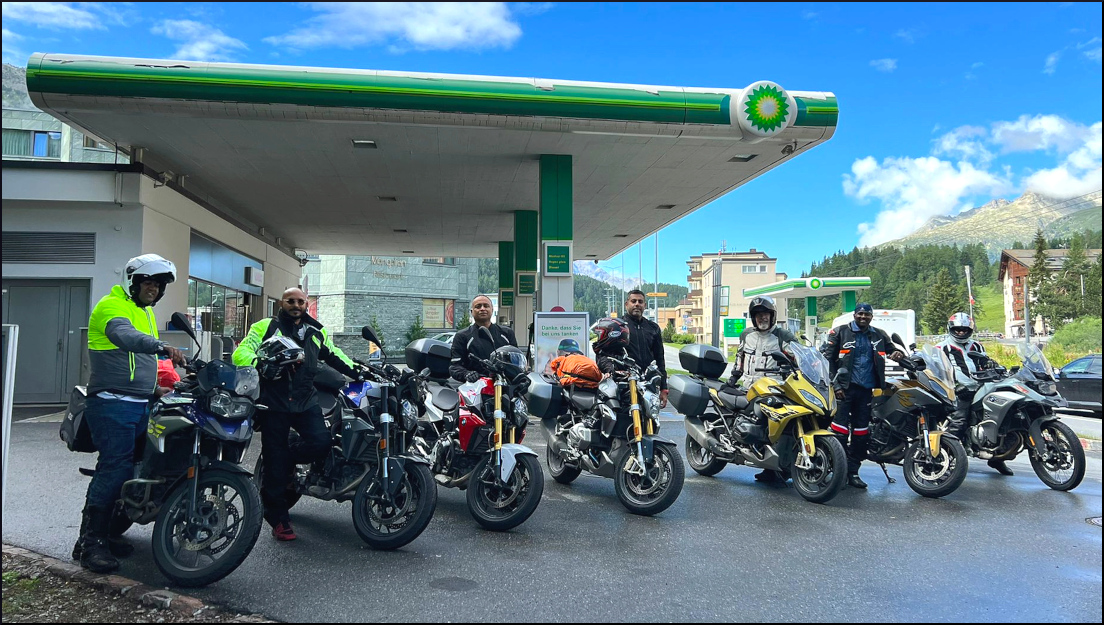 WHERE WE GO
ALPS SELECT Swiss/Italian Loop
Day 1 – Thun (S)

Day 2 – Sta. Maria (S)

Day 3 – Sta. Maria (S)

Day 4 – Corvara (I)

Day 5 – Corvara (I)

Day 6 – Corvara (I)

Day 7 – Riva del Garda (I)

Day 8 – Riva del Garda (I)

Day 9 – Pontresina (S)

Day 10 – Andermatt (S)

Day 11 – Thun (S)
TOUR HIGHLIGHTS
Special Places – Pieve, a small town overlooking Lago di Garda (Garda Lake) – specatular views. The road up is magic

Lunch at a high Dolomite Mountain Hut (via 5 minute cable car ride) with unforgetable panoramic views of the Dolomites

A snack on top of one of the highest cable cars in Switzerland with panoramic views of St Moritz and surrounding area

Major Passes – (#10), (#8) (#7) and the incomparable Passo Stelvio (#3) + more

Smaller Passes – Wurzjoch, Croci Domini and many more

More than 50 passes in total
MOTO-CHARLIE reserves the right to alter the exact route at his discretion.
TOUR COST
The cost for this tour at the current exchange rates will be:
Single rider in a single room

$5,560

– ALPS SELECT
Passenger sharing a double room

$3,265

– ALPS SELECT
Couple riding two-up sharing a double room

$8,825

– ALPS SELECT
These cost numbers should cover your direct tour costs including motorcycle rental, all hotels, all meals, gas and my fee. 
BRIEF TOUR DESCRIPTION
This tour focuses on three main areas with a little bit of Switzerland thrown in. The first area is the Tyrolean region of Northwest Italy, which includes some of the highest passes in the Alps including Stelvio, Gavia and the Timmelsjoch. We then head east for three days in the Dolomites (my favorite area by a whisker) with their unique look, great twisty roads and multitude of passes. Our final stop is two days in the beautiful Italian lake town of riva del Garda.
Most people like to arrive at least one day ahead of time to help with jet lag, see the local sights or get acclimated to their motorcycle, the roads and Euro riding in general via the free 1/2 day ORIENTATION DAY offered to all Tour Members. I'll be more than glad to help you plan whatever activity might be of interest to you.
Day 1 – Today is full of smaller one-lane passes, forested and less traveled in a quiet part of Switzerland. In the early afternoon we have lunch lakeside at Beckenried before taking the ferry across the lake. From there we take the road south to Altdorf, made famous by the legend of William Tell before we head east over the highest pass of the day, the Klausen pass. We spend the night at a cozy Swiss hotel on the edge of the Klontaler See.
Day 2 – We spend the morning enjoying three more smaller, narrow road passes that are a treat to ride before stopping for lunch at a restaurant high up on the rock face with an excellent view of the Walen See immediately spread out below. From here we head off towards the high pass region near St. Moritz passing through Klosters (where the royal family skis) with our final pass being the Fluela Pass. This pass is well above the tree line with spectacular views. We end up at a great hotel in Mals. We'll stay here for two nights.
Day 3  – Today we can ride up to seven passes including the highest passes on the tour. Today will include Passo di Gavia, one of my favorites. At over 2,600 meters this pass is the 7th highest Alpine pass. This is a prelude to the next pass, Passo di Stelvio, considered by many riders to be the "must ride" pass of the Alps. At 2,758 meters it's the third highest pass in the Alps with close to 40 switchbacks on both sides, year round skiing at the top, and the carnival like atmosphere – perhaps the most famous the pass in the Alps.
Day 4  – We head north over two smaller passes for a brief run into Austria which will give us access from the west to the Timmelsjoch, the 9th highest pass in the Alps and the highest pass of the day. After a pleasant valley run and easy climb on the Austrian side we cross the top at 2,509 meters into the Italy side for a wild, rollicking ride down to St. Leonard where we head northeast over the Jaufen pass. We then enjoy valley and mountain roads over one more pass into Corvara in the heart of the Dolomites. We will spend 3 nights here.
Day 5 – There are more passes in this area than we will be able to ride. So, we mix it up. Today we ride the classic dolomite passes which look like a figure 8 on the map. We'll also do Passo di Giau, one of my all time favorites and look down on the gorge at Sottoguda. If the weather is good we can enjoy a mountain hut lunch via cable car at more than 2,700 meters with spectacular 360 degree views of the Dolomites.
Day 6 – Yesterday we rode the classic Dolomite passes. Today we ride some of the lesser known narrow, one lane passes and high valley roads that make this region of the Alps so special. Many of these roads feel like we've stumbled onto a windy narrow one lane private driveway with unbelievable scenery. We then head back east over the Wurzjoch, a similar style road but a definite pass with some unforgettable Dolomite massif views. It's a great way to end our 2-day Dolomite visit.
Day 7 – We head south over four more passes including a narrow un-crowded gem Passo Manghen. We then ride some more twisty Alpine roads before arriving at our lakeside hotel in Riva on the shores of Lago di Garda. Riva is a great example of an Italian lakes region town. There's a lot to do including shops, cafes, people watching, water sports and more. You can kick back for the balance of the day and enjoy the town or join me for a ride along the shore and up into the adjacent hillside. Don't worry; we'll be back in time for dinner.
Day 8 – It's the week end so the Italian lakeside activities, café life and people watching will be in full swing. Riding can be split into two loops, one in the morning and other in the afternoon. Today lends itself to a number of choices including a whole day away from the bike, a morning ride, which we can highlight with lunch at a hillside hotel/café overlooking a panoramic view of the lake and Riva below or an afternoon loop through the hillside, which few Americans get to see. It's a good day to recharge your batteries, buy a few souvenirs and soak up some Italian culture.
Day 9 – Today we work our way west as we start to head back towards our Swiss base. We cross several delightful narrow, memorable passes located above the lakes and below the higher Tyrolean passes to the north, all with an Italian flavor. We then cross one of my favorites, the Splugen Pass. This pass has it all, tight narrow twisty roads, two-lane panoramic views, Italian espresso and Swiss hospitality on the other side. We come to Andermatt over the Oberalp Pass, famous to motorcyclists for its high-speed sweepers and switchbacks. Our hotel for the night is right in the center, which is a quintessential Alpine village.
Day 10 – We spend the day enjoying the special high passes around Andermatt, an area many riders consider the epicenter of Swiss pass riding including one of my top favorites, the Furka Pass. Here we stop for a quick look at the fast melting Rhone glacier, poster child for global warming. There is also the fast flowing Gotthard Pass with wide sweepers and the original, almost parallel Tremola Road, which was the original cobblestone pass and gives you an entirely different experience. Depending on the weather and our pace we ride one or two more high passes in the area and perhaps a neat dead-end road with a dam lake at the top, spectacular views and a nice café.
Day 11 – We head back towards Thun surrounded by great Swiss mountain scenery. We sometimes visit the Riechenbach Falls in Meiringen where Sherlock Holmes had his fight to the death with Dr. Moriarty. We go over a couple of more passes on our way back to the hotel where we unload our gear and head to the rental shop to turn in our bikes. We wrap up a great tour with a group dinner at a lively old-town riveside restaurant and say our farewells, until the next tour 🙂 to our new found friends.
Next Day – Many possibilities – Rest day before next tour, continue on with other Euro travel plans, fly home
KEY DATES
If you would like to come sooner, or stay longer, hotel and motorcycle arrangements can readily be made to suit your schedule.
When to book your reservation obviously depends on your schedule. As a rule I suggest

at least 3 months in advance

 

to ensure that you get the motorcycle that you want

and to secure a place on the tour. There is

a limit of 7 motorcycles

or 10 people, whichever comes first, per tour.
The final cut-off date is technically 30 days before the tour starts.  If someone contacts me to sign up with less than 30 days to go every effort will be made to accommodate you. The issue will usually be the motorcycle availability.
MINIMUM NUMBER OF TOUR MEMBERS
5 riders or 7 Tour Members
HOW TO BOOK THIS TOUR
Please "Contact Me" by telephone or e-mail to book your spot on this tour. I am not a paperwork intensive person. So, the process of making a reservation and getting what I need for my records is pretty simple.
Feel free to contact me to ask any questions about my tours in particular, or the Alps in general. If I can be of help in any way I'll be glad to do so.
Final Thought – "Alps Select" – The Best of the Best. We ride the famous Andermatt area, enjoy the incomparable highs of Passo Stelvio and Gavia, revel in the beauty and unmatched riding of the Dolomites and then get some R&R in the Italian Lake region before our final blast back to Thun.

You get to sample Switzerland and really appreciate Italy. You might even wind up determined to go home and buy your own Ducati or Moto Guzzi – it's happened before.